The end of the Trump Presidency and peace in the new year!
---
The end of the Trump Presidency and peace in the new year!
---
I have not had the pleasure of producing artwork for Nottingham's LeftLion Magazine, not since the
A Canadian In New Basford
column was resurrected for the 100th edition back in March 2018. Jared Wilson (Editor-in-chief) asked if I could come up with a visual concept for the Christmas 2020 front cover, allowing me pretty much a free rein. The year 2020 in many respects was an 'Annus Horribilis', the political noise emanating from the Oval Office, which should represent the voice of freedom and democracy, was nothing more than a surreal and frightening charade. Fake news, sensationalism and the repeated warping of political reality had become the new norm. Despite losing the election to president-elect Joe Biden in November, I can't help but feel that something terrible and surreal is going to happen, is it possible that we could see a coup d'état in Washington D.C? The Trump presidency has shown us that the old rule book has been torn up and thrown out of the window and that anything is possible.
The Covid-19 pandemic has also raged across the globe this year, it's changed life as we knew it. The artwork is intended to shine an optimistic light on the year to come, hopefully Donald Trump slides out of office peacefully and gradually the vaccination programme is expanded and we can once again begin to socialise, see friends and family and travel freely. In reality I wouldn't want to see Donald Trump decapitated and his head on a plate, but hopefully this image is symbolic of the fact that for him, the party is over and he's going to be consigned, along with Covid-19, to the history books.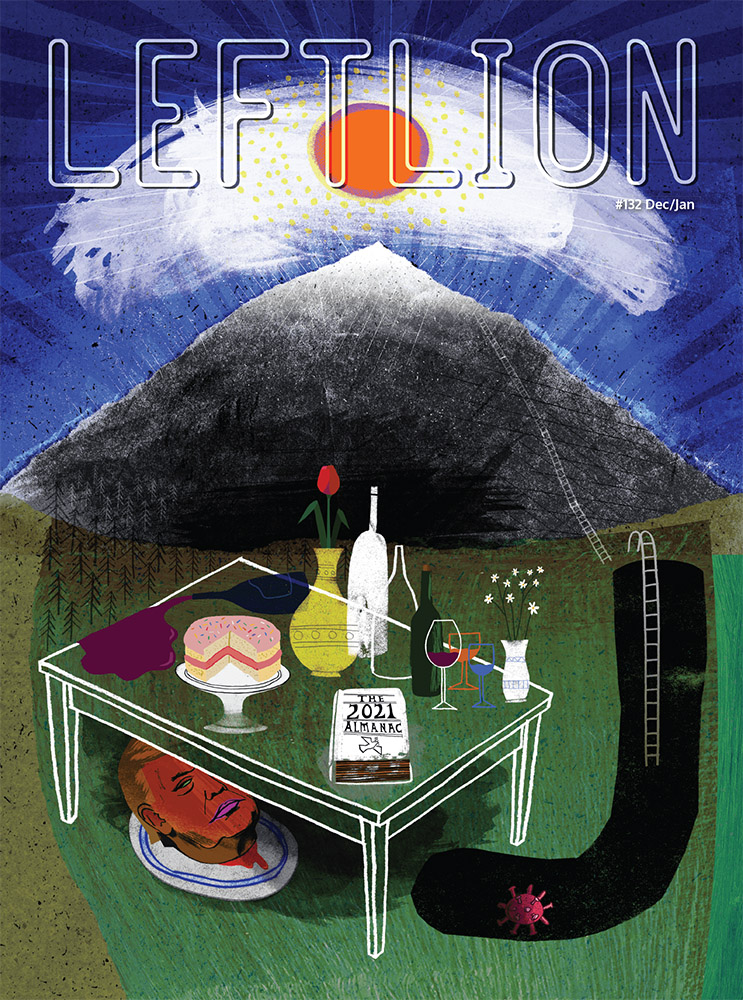 LeftLion Magazine Issue #132 Dec/Jan 2020/21 - Front Cover
Front cover art without copy:
LeftLion Magazine Issue #132 Dec/Jan 2020/21 - Finished Art (No Branding)